It's here !
My personal copy , after years of trying to buy it for sane amount of greenies ;
You can still find it ….. in at least dozen web book stores , but just as another book available only in Catalog , not in reality .
Here and there they're popping up on Ama*on or E*ay , for anything between 30 and 350E , but you need either to be extremely quick or extremely dumb or both , to snatch it.
However , lucky and unworthy as I am , after several years of bawling , I got it … thanks to my own personal Wakoo German , known as Generg on Big Diya .
So , again , another Geschenk von Generg ……..
Vielen Dank , Herr Bethge !
After few quick glances , it seems as interesting reading ; 260+ pages in pretty small font, few dozens of pictures …… and tonight it will be just first of many nice reading nights …….
😉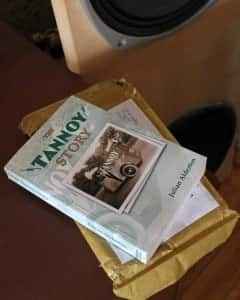 Edit few days later …….. finished very enjoyable reading ……
 What a ride !
https://www.zenmod.in.rs/wp-content/uploads/2014/04/Tannoy-story.jpg
1200
961
Zen Mod
https://www.zenmod.in.rs/wp-content/uploads/2020/02/zen-mod-labs-black.png
Zen Mod
2014-04-03 12:42:30
2014-04-11 19:31:08
The Tannoy Story by Julian Alderton